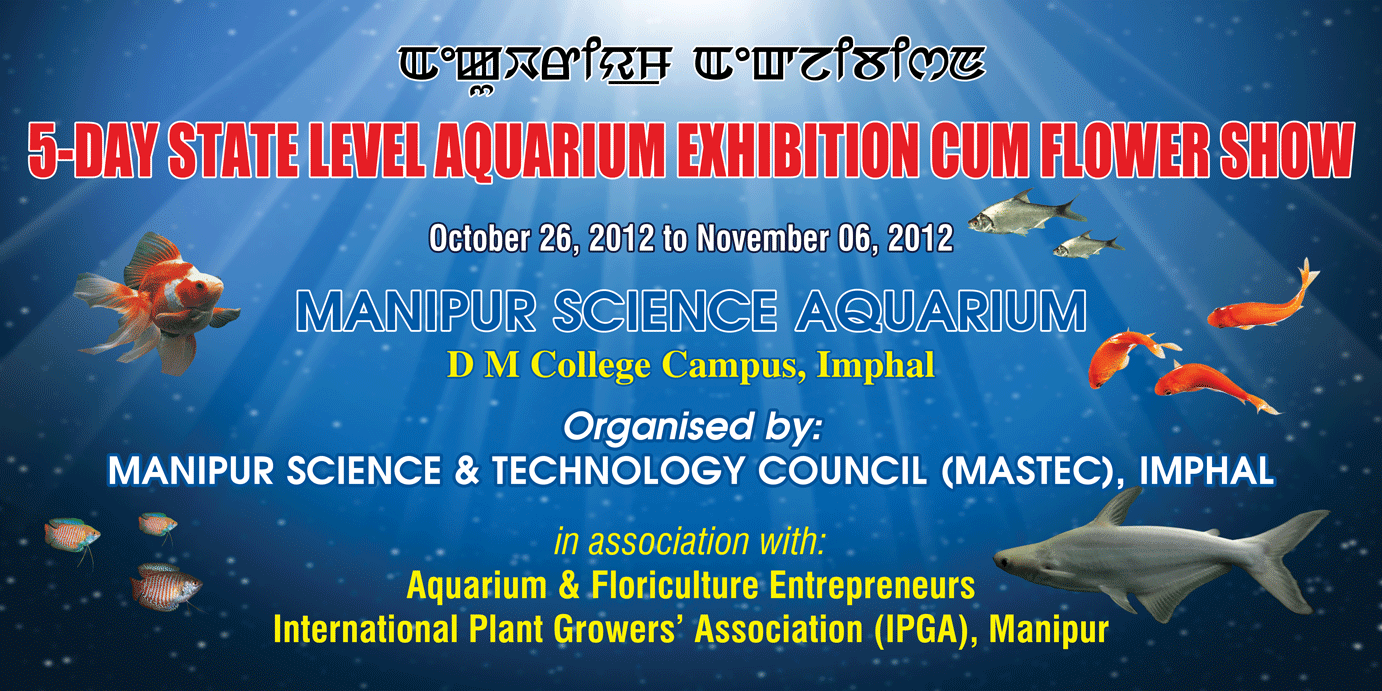 Manipur Science Aquarium was inaugurated on 31st March, 2011 at D.M. College Commerce Complex, Imphal. The Aquarium was established by Manipur Science & Technology Council (MASTEC) with the support of Department of University and Higher Education, Government of Manipur.
After one year of establishment of the aquarium, MASTEC could organised a 5-Day State Level Aquarium Exhibition-cum-Flower Show which will be held during October 26 - November 06, 2012 at the aquarium premises. It was organised with an aim to popularise Aquarium and Floriculture in the state; to come up more entrepreneurs in these areas; to popularise Manipur Science Aquarium.
Aquarium entrepreneurs participated in the exhibition are Shri Keisam Santosh of FISH WORLD, Keisampat Keisam Leikai, Imphal - 795 001 and Shri Gurumayum Bimol Sharma of SHARMA AQUARIUM, Keisampat Junction, Imphal - 795 001.
Among the floriculturists are Cinderella Plants' Care, Singjamei Chingamakhong; Hidangmayum Umakanta Sharma, Secretary, International Plant Grower's Association (IPGA), Uripok Sorbon Thingel, Imphal; Gaminash Nursery, Bamon Leikai Nahabam, Imphal East; King City Evergreen Nursery, Pishumthong Bazar, Imphal West.
A total of 84 fish species - 28 species of Indigenous fishes and 56 species of Exotic fishes were exhibited during the exhibition. On the other hand, the floriculturists have shown a total of 124 plants species.
On an everage 500 visitors per day visited to witness the exhibition. Among the visitors are the young enthusiasts, school students who would like to witness such types of exhibition every year. Many of them suggested of organising the exhibition regularly every year. They would also like to see more indigenous fishes in the future exhibitions.